CNC Screw Machine Services - Servo Cam
---
B & S 1-1/2 in. capacity w/Servo Cam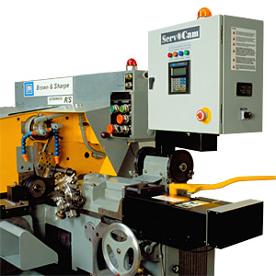 Brown and Sharp w/ServoCam
The ServoCam™ system is much more versatile than a conventional lead cam, because the motion profile of the turret slide is stored as a computer data file instead of being cut into a metal cam.
Key Benefits
Improved machine cycle times - Cycle times are typically improved by 10%.
Improved thread quality - Chaser life is up to four times longer than when the same job is run on a conventional cam machine. As a result, a smoother thread is cut, and thread quality is maintained for longer periods.
Fast, accurate tool length adjustment - Turret tool lengths are "adjusted" from the controller keypad, without changing the cycle or having to loosen the turret clamp screws and tap the tools. This results in tools that can be adjusted to .0001" resolution, improving overall part length tolerances.
Information Brought to you by http://www.servocam.com